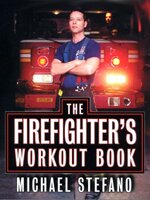 I'm
Mike Stefano
. Every day, I work one-on-one with firefighters and candidates, ordinary men and women who seek to dramatically improve their level of physical conditioning in order to have any chance of making it with the FDNY.
In the
Big Apple
as many as 40,000 young hopefuls test for less than 2,000 jobs. Competition is fierce, and if you're not up to the task, the city hollers,
NEXT!
But that's where I come in. Years of
hands on experience
with literally THOUSANDS of firefighters have taught me exactly how to prepare
you
for the toughest job on earth, and I have the statistics to prove it.
FACT: Every man and woman who's completed my program has gone on to secure their position with the FDNY. That's a bold, albeit true, statement. My current batch of trainees are expected to do the same - 100 percent, top of their class.
ALL-INCLUSIVE FIREFIGHTER PLAN
GOLD | SILVER | E-Z PAY
For the seasoned vet or dedicated volunteer who needs to get back some lost
strength and stamina
, or any firefighter who wants to shed a few pounds, I offer personalized job-performance, career-extender, and weight loss programming. Via my all-new
Strength/Skills Checklist
, I'll teach you how to address all your firefighting "weaknesses".
Firefighter Strength/Skills Checklist:
CLICK HERE >>
What separates my system from all the rest is 2 decades of experience training firefighters at every possible fitness level. As a New York City firefighter and captain for over 20 years, my grasp of the extreme physcial demands placed on a working firefighter, combined with my ability to design programs that match those demands, is unparalleled.
PREMIER CANDIDATE PREP
GOLD | SILVER | E-Z PAY
By far the most comprehensive, all-inclusive firefighter candidate fitness plan ever created, because it's based on your exact test data as documented in your
Candidate Fitness & Event Profile
.
I will take you step-by-step through each event, providing the inside scoop on how to best prepare for your specific test parameters. My in depth
Candidate Event Profile
, provides me with every detail of your testing procedure. Practical instruction on how to re-create some of the most common events for practice purposes is also included.
The candidate physical abilities test (CPAT) is your final hurdle before getting hired, but by far the hardest to get over. Man or woman, my
Custom CPAT Prep Plan
is specifically designed to give you the extra edge you'll need to pass YOUR exact test. It's essential that you submit an accurate
Candidate Fitness & Events Profile >>
ACCESS TO ONLINE EXERCISE LIBRARY
Every custom program comes with full access to the all-new
online exercise library
. For maximum results, perfect form with some of the more challenging exercises is paramount. My new online video instruction (free access with every program) will take you to the next level. Take a sneak peak:
click here
At any time during your program, you can , with either a question or just a simple comment. We'll establish a weekly dialogue based on your progress with the program. This will help motivate and breathe new life into your workouts.
PAY AS YOU GO E-Z PAYMENT PLAN
Your totally personalized muscle building and conditioning program is presented in a multi-phased workout system spread over about three months. With our new
E-Z pay plan
, you can pay as you go. That's only $66 per month, including my direct and personal support.
After 22 years as a New York City firefighter and trainer, I know exactly what it takes to prepare you for the most demanding job on the planet, where life and death hang in the balance. Don't waste another minute. Whether you're senior smoke eater, or plan to take the next CPAT, get on the one, the only
Firefighter's Workout
.