7 Simple Steps to Weight Loss
by Michael Stefano

"Everything in moderation, even moderation"
Weight loss, or more specifically, weight management, demands a multi-faceted approach. From eating only at scheduled times to using a favorite treat as an incentive, latest research suggests that losing weight can sometimes be more psychological than physical.

Ultimately, you are what you eat, but the driving force behind that ravenous appetite needs to be dealt with if you're to have any chance of reaching an ideal body weight.

Below are seven simple techniques to help you gain control over your body weight. Use them to help outline your own weight management system.


Step 1. CONTROL YOUR ENVIRONMENT
Here you seek to surround ourselves with healthy alternatives, as well as make sensible choices.

·Shop only when full
·Shop from a list
·Avoid prepared foods
·Eat only at scheduled times
·Accept no food offered by others
·Store food out of plain sight
·Always eat in the same location
·Use smaller plates
·Throw away leftovers
·Consume low cal snack prior to party
·Don't get discouraged if you occasionally slip


Step 2. CHANGE SIMPLE HABITS
This step involves very simple changes that require a gentle effort

·Chew thoroughly before you swallow
·Leave some food on your plate
·Prepare only one serving at a time
·Pause in the middle of your meal
·Focus all attention on eating (no TV, radio, etc)


Step 3. PROVIDE YOURSELF WITH A REWARD
You'll find out that self-gratification can be a powerful tool

·Seek help from friends and family
·Use self-monitoring as a basis for reward
·Plan specific rewards for specific behavior


Step 4. EMPLOY SELF-MONITORING
Tracking behavior allows you to make informed, accurate decisions based on previous behavior

Keep a food diary that includes:
·Time/place of each meal/snack
·Type/amount of food consumed
·Who is present during meal
·How you feel before and after


Step 5. GIVE YOURSELF A NUTRITIONAL EDUCATION
Learn as much as you can about what's in what you eat

·Use food diary to identify problem areas
·Make small changes that you can continue
·Learn nutritional values of foods (read labels)
·Decrease fat intake, increase complex carbohydrates


Step 6. INCORPORATE MORE PHYSICAL ACTIVITY INTO YOUR DAY
Your body can't register the difference between routine activity and formal exercise, but exercise, per se, provides greater control of results

Routine
·Increase routine activity
·Increase use of stairs
·Keep record of distance walked

Exercise >online workouts
·Start with a mild exercise program
·Keep records of all workouts
·Gradually increase frequency, duration, intensity


Step 7. THINK POSITIVE
Success, in just about any endeavor, requires a positive attitude, with an initial focus on small, achievable successes

·Set reasonable goals
·Focus on progress, not setbacks
·Avoid terms like always and never
·Recognize irrational thoughts and dismiss
·Set weight goals (both long and short term)

The preceding seven steps can help you form the basis for your program. Captain Mike's DesignONLINE Custom Program includes many of the tools you'll need to get started, including a 3-phase fitness plan, workout journal, 101 healthy recipes, food diary, nutritional and motivational support, and more. For more information on Mike's program, please click here.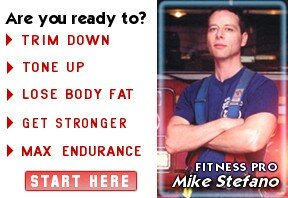 MICHAEL STEFANO is the creator and author of the Firefighter's Workout (Harper Collins 2000). Mr. Stefano is a health and fitness writer, contributor to eDiets, eFitness, and Firehouse.Com. Michael's articles have appeared on AOL, MSN, and Yahoo! His workouts have been featured in magazine and newspapers from around the country, as well as in numerous network and cable TV segments. He also offers an online version of his custom program, via a comprehensive 15-point fitness profile form.

"My program is a no-nonsense approach to exercise and weight loss that will not only get you fit, but will also fit into your life". -MS
ALL MAJOR CREDIT CARDS ACCEPTED



BUY NOW