Tired of starvation diets, endless cardio, or muddling through complicated programs? Most gyms offer "trainers" who've got little if any training themselves. Realistic or sensible advice seems hard, if not impossible, to come by. But there's a much better way.
I'm Mike Stefano, fitness pro and retired firefighter (Captain, FDNY), as well as author of The Firefighters Workout Book. (The Firefighters Workout, Real Fitness & Lasting Weight Loss for Men & Women (HarperCollins NYC - OCT 2000), now in its 5th printing, with over 60,000 copies sold)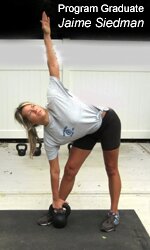 Using a variety of techniques from Yoga to kettlebells (classic kettlebell windill at right), I teach local area men and women how create real and long-lasting change in how the look and feel. If you're interested in regaining control of your body at any age, please read on.
Exercise programs fail for lack of knowledge, not motivation. Over the last few decades, and since the advent of the health club, much misinformation has prevaded our society on the subject of fitness. This has hurt the typical novice exerciser in numerous ways.
Stop Training Like a Bodybuilder
Bodybuilding is now considered the pinnacle of the exercise world. The notion that bloated, out-of-proportion muscle is somehow beneficial, has become the norm. Learn a different way: click here
True full body conditioning is about creating a body that's symetrically connected, versus a Frankestein of over developed body parts. With the right type of training, your legs, hips, torso, core, and arms develop the sinewy tone of a martial artist, ballet dancer, or Olympic athlete.
Let me show you how to take back control! Learn to move in a more fluid pain-free manner. You'll also build real strength and endurance, tone muscle, and melt away body fat. Greater joint health, mobility, and agility, also mean you'll experience less injury, aches and pains.
Firefighters Are Just Like You
There is one major difference. Firefighters have NO CHOICE but to stay in shape. Annual physical exams are part of the job, and if you fail you're helplessly pulled offline. Most departments make no provision for their members to have access to the necessary equipment and information it takes to put together a comprehensive fitness plan. The prevailing attitude seems to be, stay fit or you're fired!
Through hands-on training with hundreds of individuals, I learned how certain metabolism revving, strengthening and toning movements combined with sensible eating (no starvation or fad diets!) are the true keys to real fitness and lasting weight loss.
In addition, I'll teach you how to create your own daily negative caloric balance, making it much easier to reach a healthy body fat level, and WITHOUT self-deprivation or hours in the gym.
State-of-the-Art Approach to Working Out
Train in style with total privacy in my fully equipped studio. This allows us endless variety and complete safety without the frustration of staring crowds or waiting for sweaty, overused machines. Remember, I'll be with you every step of the way - guiding, adjusting, challenging, progressively adapting your program to deliver the results you want.
I will gently guide you through the often difficult start up process, providing you with one-on-one direction that includes both exercise and weight management advice. Come in, take a look at the facility and see what I have to offer at absolutely no risk to you. To help you get started I'll extend a FREE consultation. Just mention the website when you call or e-mail, and the consult is on me.